NO PLACE LIKE HOME
Tenafly, NJ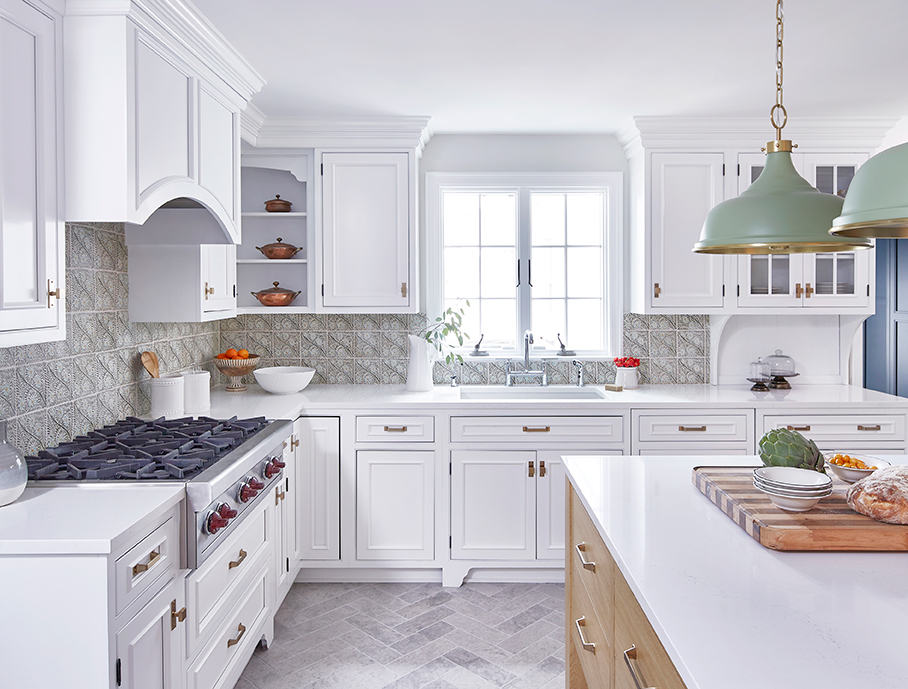 The Backstory
When we met this family, they had a new house under contract. After deciding not to move, they asked us to help make their Tenafly home (which we loved) more reflective of who they are. This meant not only incorporating the art, sculpture, and decorative objects they have collected during their travels, but creating a home that embodied their Indian (his) and Russian (hers) heritage – and was comfortable for their sons.
The Design Brief
Create a warm, personal, and vibrant living space where the entire family feels at home.
The Inspiration
A Life Well Traveled. The owners are world travelers who love nothing more than returning home. A previous renovation included a new kitchen and family room addition, but they were ready for a top-to-bottom makeover. Using their love of color and pattern as a springboard, we created a jewel-toned palette of marigold, green, and blue. His heart was set on a white kitchen, so we gave it a facelift – refinishing the cabinets and installing a hand-painted backsplash, herringbone-patterned tumbled limestone floor, and classic white oak island. For the bathrooms, we tweaked existing floor plans. Hers: a luxurious, Moroccan-inspired blend of materials in shades of green, with star-patterned mosaic floor tiles as the centerpiece. His: the understated elegance and masculine sophistication of all-white marble with a tile pattern reminiscent of The Carlyle hotel. The boys': the youthful vibe of a buffalo-check plaid tile floor coupled with white ceramic. We up-leveled the comfort in the family room with a fresh furniture plan, including an L-shaped sectional, built-in banquet and a table for doing homework. The reclaimed wood framing the doorway to the kitchen added a rustic touch, and the Acanthus leaf wallpaper was a statement-maker. More jewel tones sparkled throughout – like the sapphire blue cabinetry in the mudroom and stunning emerald headboard in the master bedroom.