TAILORED TO PERFECTION
Demarest, NJ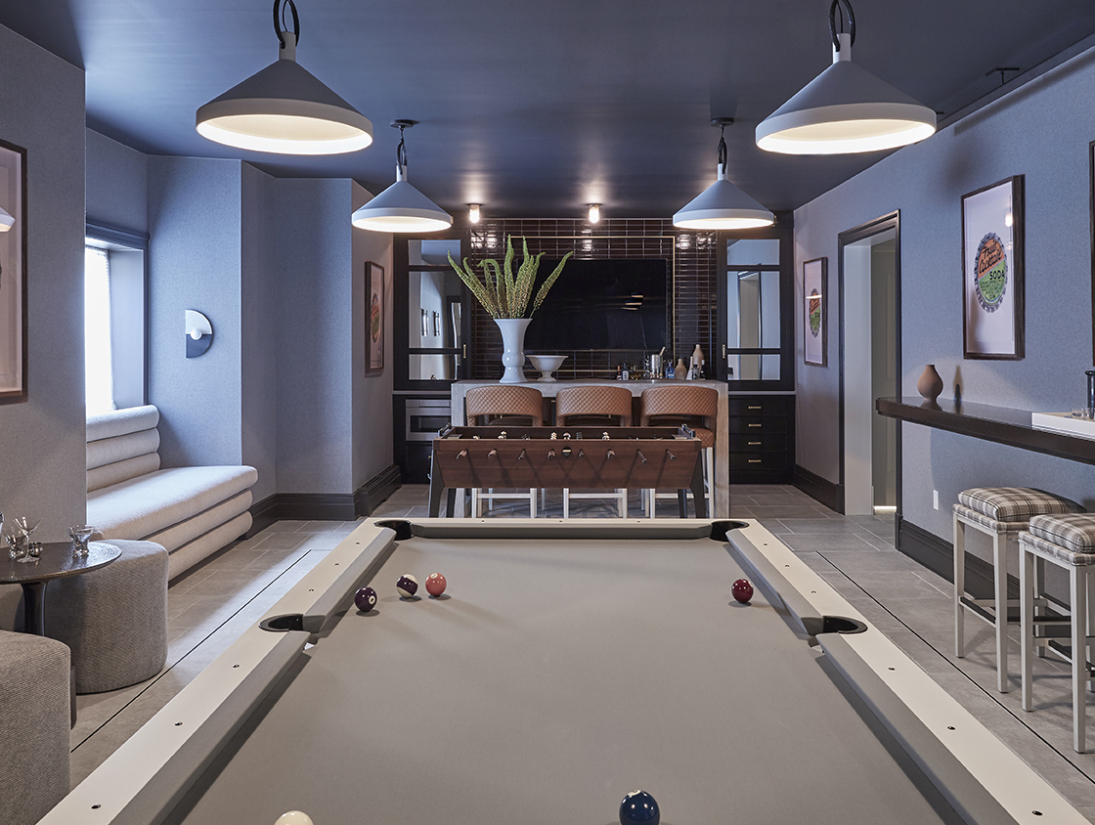 The Backstory
This family of four had been enjoying their well-appointed custom builder home in Demarest, N.J., for a short while – and knew the partially-finished basement had potential. The underutilized space, which ran the length of the house, was split in half and lacked the appeal of the upper living spaces. We knew we'd have to work hard to create an experience that would draw people downstairs.
The Design Brief
Design a sophisticated and inviting space that worked as an entertainment hub for both the parents and their teenagers.
The Inspiration
Family Game Night. Embracing the split personality of the room, we moved partitions to even out the two sides. The game room reflects the industrial rawness and moodiness of the space, with a stone-like porcelain floor, men's suiting wallpaper, and a sleek bar with deep chocolate lacquered cabinetry and backsplash tiles that reflect the light. Plaid and quilted bar stools are upholstered in high-performance vinyl, and a channeled banquet and wall sconces give purpose to a window nook. A double entry leads to the other side, which we enveloped in warm wood paneling with a cerused finish and custom millwork to complement the chunky stone fireplace. Back-to-back sofas, a sectional, ottomans, and chocolate plaid club chairs offer ample seating for guests or family movie nights. The owners later tasked us with editing several other rooms, including the master bedroom suite. We cozied things up, reupholstering the bed, adding wallpaper and a new hanging fixture, and creating two seating areas featuring a sexy curved sofa and an L-shaped banquet.