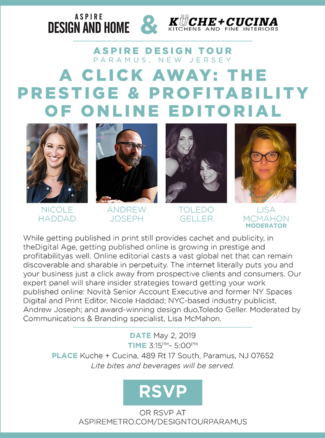 Interior Design panel discussion about Online Editorials:
We are honored to be asked to once again participate in a panel discussion about interior design, and this time, in our own backyard in Bergen County. The topic will cover how interior designers and decorators are focusing on getting press in today's digital era. We'll share some of our successes of what's worked and what hasn't - from our grassroots approach to hiring publicists + agents (you might be surprised at which avenue has been more successful for us) and what you should expect to achieve from press (are you trying to reach a certain demographic such as empty nesters or young families?) or do you want the notoriety among peers in the design industry? We'll be joined by Lisa McMahon, Andrew Joseph, and Nicole Haddad and the event is part of the ASPIRE DESIGN AND HOME Design Tour in Paramus, NJ.
Tickets for design industry friends are available here.