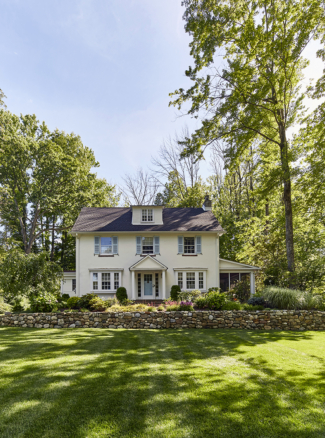 Martha Stewart asks us for exterior paint color tips!:
An exterior paint color does more than up the curb appeal of your house—it also gives guests their first impression of your home. A good exterior paint color is like a little peekaboo of what's to come inside of the home. It sets the stage for what to expect. That's why it's important to pick a shade that speaks to your distinct style and enhances the unique architectural features of your home.
Martha Stewart asked us to share a favorite exterior paint color combo and we happily obliged. Jessica shared that if you're looking for a chic way to set your home apart from your neighbors,  you can play up a neutral exterior by painting the trims in a muted shade of blue, as she did in her own home. "While you might not necessarily want to match the houses next door, you also don't want to clash with them," she says. "A cool white with gray undertones, like Moonshine #2140-60 by Benjamin Moore, reads as pure white in direct sunlight, while a soft blue hue, like Under the Big Top #1675 (also by Benjamin Moore), brightens up accents without looking too electric."
The biggest tip we can give for choosing your exterior paint color is sample, sample, sample. If you've done any research on choosing a paint color for inside the home, you know that the type of light in each room has a huge impact on the shade. Well, consider all of the natural light the outside of your home experiences. Jessica sampled at least 6 blue colors for her front door and shutters, which all looked like they would be perfect with the white stucco on her home. But when she sampled them outside some read too bright, some too dull, some too green, and so on...She ended up going through the leftover paint from her interior rooms and on a whim, sampled the blue color that is in one of her daughter's bedrooms. And, that one finally worked!