LIVINGSTON LUXE
Livingston, NJ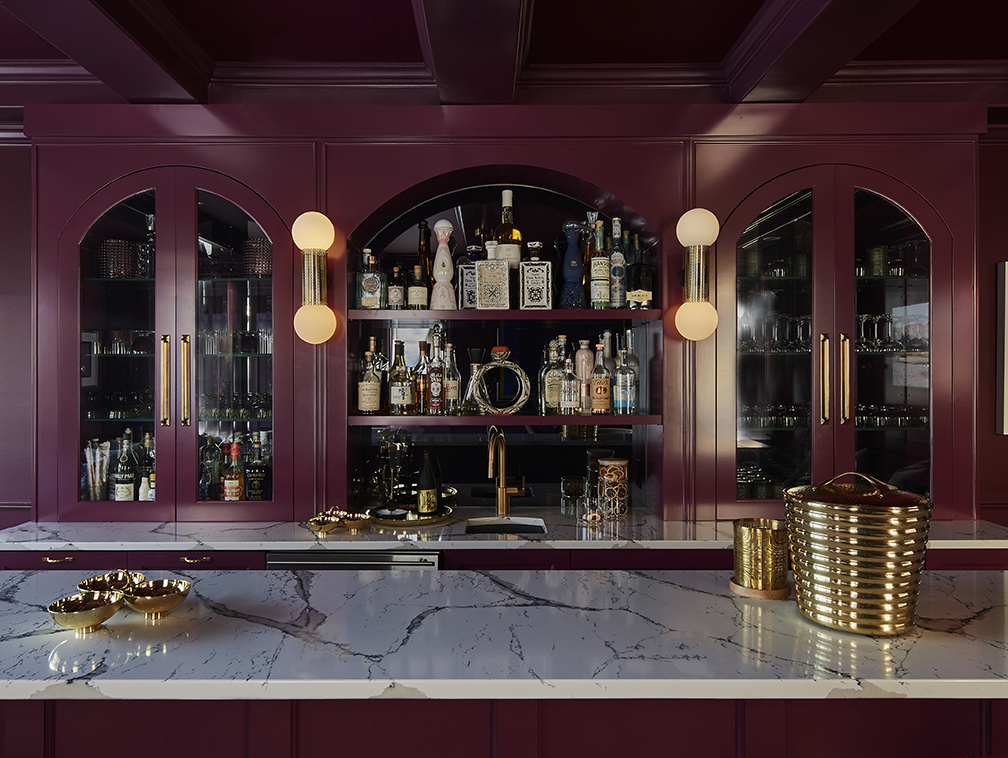 The Backstory
Her passion for entertaining in her Livingston, NJ home is legendary, as is her maximalist brand of glamor. She envisioned a home with her husband and three children that mirrored her singular aesthetic: edgy and fashion-forward, with a love of leopard, lacquer, and luxe.
The Design Brief
Amp up the "wow factor" with bold elements and eye-popping color, tempered by neutrality.
The Inspiration
Color Crush. This project initially involved turning the expansive foyer into a grand entrance, with a custom turquoise sofa hugging the staircase curve, high shine finishes, and hand painted silk wallpaper. We also decked out the daughter's' bedrooms in their personal style: an ultraviolet velvet headboard and wall-sized bulletin board for the older girl; a custom bed and rainbow wallpaper for her sister. The same opulent density of color and texture – and signature leopard accents – have now been carried into all of the living spaces. A full-service bar is wrapped in aubergine – from the lacquered walls to the velvet banquets. The living room's pale suede walls and leather-upholstered doors (with nailhead trim) get a blast of color from a saffron sofa. Blue stained wood cabinets envelop the office. Custom patterned marble floors add a dynamic spark in the white kitchen. And the dining room's sleek furnishings are softened by a blush pink ceiling and curtains. Upstairs, the Zen-like primary suite is awash in ethereal blue, the luxurious bath clad floor-to-ceiling in violet marble.