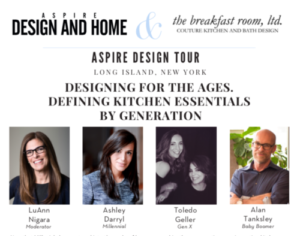 What's Happening:
We were asked by our good friends at Aspire Magazine to be part of their Long Island Design Tour and sit on a panel moderated by LuAnn Nigara of the famous Podcast, A Well Designed Business,  representing the Generation X demographic to give our insight as to what that generation needs and wants in kitchen design. The venue, The Breakfast Room in Manhasset, Long Island was gorgeous...and, don't you just love their name? The Breakfast Room, ahhhh. Along with Generation X, the Millennial and Baby Boomer generations were also represented.
We have designed many kitchens in our collective nearly 20 years in design and have designed for many Gen X'ers and baby boomers and recently worked with our first Millennial couple. So, how does kitchen design change for someone based upon their age group? Some of the answers we knew very quickly but we took to one of our favorite Facebook Moms Groups, Hoboken Mommies, and asked their opinion and boy did they deliver.
What we see is that Gen X'ers are in the most busy times of their lives. Typically they have recently bought their biggest home, they are the pinnacles of their careers, their homes are filled with children and pets, college costs await - you get the picture. In their kitchen, they are looking for timeless design are often timid about being daring with color and finishes because this kitchen will be theirs for a very long time, until it's time to downsize. Our Facebook Mommy friends all said they want efficiency which means lots of drawer cabinets outfitted with organizational accessories and refrigerator drawers (for little ones to stockpile their juice boxes and water) and dishwasher drawers to make washing smaller loads a breeze. They don't want too much tech but smart refrigerators that can maintain a grocery list that links to your phone app and smart double ovens reign supreme.
Whatever your age group, we find that your kitchens can truly be customized to work for your current life and what is valuable for you in that chapter of your life. Cheers!